It is stylish, solid and easy to operate, integrating capabilities such as fast induction and super barcode reading. As the first industrial scanner of Newland, HR42-HD is set with infrared sensor that can quickly induce and read barcode within 100ms. HR42-HD can not only read high-density barcode, but also can handle postal barcodes. What to do if the barcode is low in contrast, dirty and destroyed, fuzzy and deformed? Don't worry about that, HR42-HD can read it for you.
HR42-HD has powerful data editing capability, customers may skillfully process the scanned data and use the software provided to achieve different application requirements without having received professional training. The kindly non-flicker soft lighting design and accurate cross laser system improve its operational efficiency greatly. Without moving parts, HR42 fortifies itself inside and out with an IP42-sealed and drop resistant (1.8m) housing. The guard of high standard makes HR42-HD fully competent for industrial applications such as production control, product tracking, and warehouse/inventory/distribution/logistics management in harsh environment.
Important Features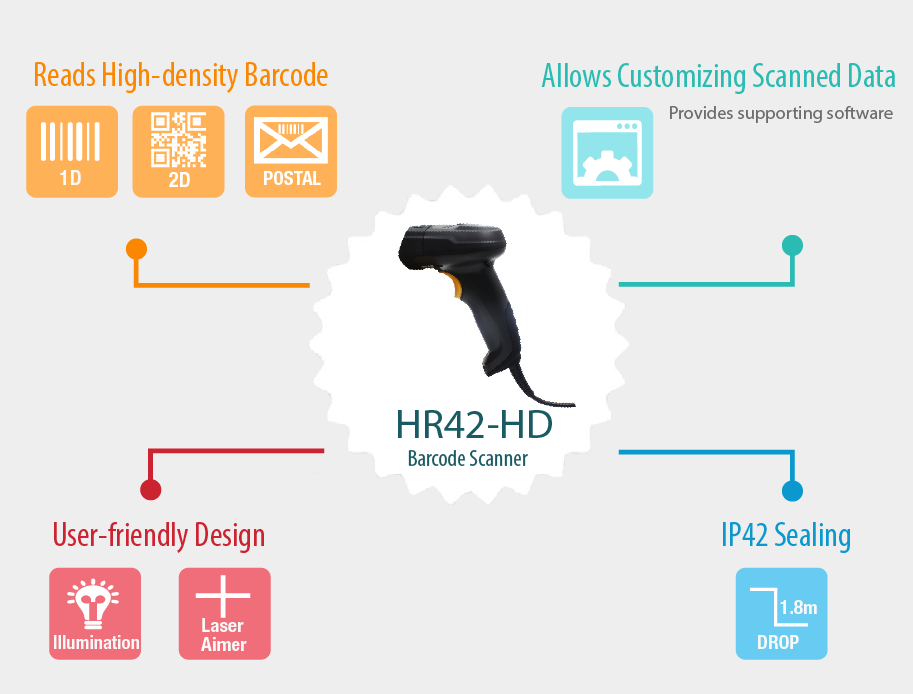 The HR42-HD is available now. Get in touch with your local sales office for more information!